GAMSAT Online Course
I get a lot of questions about my GAMSAT online course - Griffiths GAMSAT Review - so I decided to answer some of the most common queries in this blog post.
For full details about the course or to sign up you can visit the website at www.gamsatreview.com but here I'll cover some items which may not be covered there and which students frequently ask me.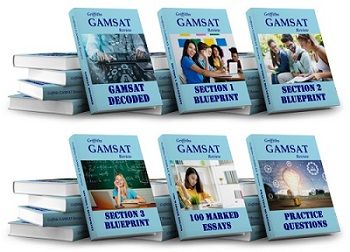 How Quickly Can I Start?
All the course materials are delivered instantly online after making payment so you can start immediately.
No waiting for anything to arrive in the post.
What Format Are The Materials?
Most of the course documents are in PDF format which is a universal computer document format which works on both MAC and PC.
The Advanced Question Logs for Sections 1 and 3 are delivered in Microsoft Excel spreadsheet format.
How Long Has The Company Been Going, Can I Trust It?
I created the first version of Griffiths GAMSAT Review in 2005 after I passed Gamsat in the top 10% and in my first year at medical school.
Since qualifying as a doctor I've continued to update it and improve it into the complete home study system that it is today.
When I created the course there were only two other Gamsat prep companies in existence - Des O' Neill in Australia which has now closed down and Gradmed in the UK.
This makes my online course one of the longest established Gamsat preparation courses in existence.
For more information about how long various Gamsat prep courses have been in existence please read my other article in this blog - The Best GAMSAT Preparation Courses
Does It Cover All 3 Sections?
Yes unlike a lot of courses which focus excessively or exclusively on the science section the course genuinely covers all three papers of the test.
This particularly important as more universities seem to be moving towards using the alternative marking formula which gives equal weighting to all three sections.
Can I Get My Essays Marked?
Included with the course are 200 MARKED ESSAYS from real students with detailed individualized feedback so you can easily compare your own essays to what other people have done and see the features of both good and bad essays.
This feature is unique among Gamsat prep courses, I don't know of any other company giving so many essay examples for section 2.
If you want to get your own essays marked we have an essay course which you will be given the opportunity to purchase separately after signing up for the Gamsat Review course if you decide you need your own individual feedback.
How Long Before GAMSAT Should I Get The Course?
You'll get most benefit from signing up to the course and starting your studies at least 6 months before the test.
However the course contains many test taking strategies and techniques which can help you to improve your score almost immediately, so even if you're only a few days away from taking Gamsat you'll still get significant benefit from the course.
Should I Get The Official ACER Materials Also?
Yes, the official ACER materials are the best way to practice actual Gamsat style questions. I recommend you also invest in all the official ACER practice questions.
In the course I'll show you the best way to use them and at what point in your preparation you should attempt each of the official ACER practice tests.
Do I Need To Buy Anything Else?
In the course I'll also recommend some standard science textbooks. I keep the cost of the course low by not including science books like other courses since there is no special Gamsat science and you can use regular textbooks at a fraction of the cost.
I concentrate on explaining what to study and how, the essential skills you'll need exam strategy, question technique etc.
Are There Practice Questions Included?
Yes, in each of the Modules for each section there are practice questions and there is also a separate full length practice test with fully worked answers.
One of the big disadvantages of the official ACER tests is that they don't have worked answers.
This means they are good at measuring your progress but not so good at helping you to actually learn how to solve the problems. All practice questions in the Griffiths GAMSAT Review have fully worked answers.
How Do The Question Logs Work?
The logs automatically produce easy to understand graphs and charts which show you at a glance how many of each type of question you've actually attempted and what percentage you've got correct.
This allows you to keep track of your preparation and identify easily the areas you need to spend more time on.
All you have to do is enter the type of question you've completed for section one or section three from any source (your own textbooks, the question in the online course or the official ACER questions) and mark it as either correct or incorrect.
The question logs do the rest for you and automatically generate all your results in both tabular format and full colour charts and graphs.
Do You Have Customer Reviews?
Oh yes! This course has got more positive feedback from students than any other Gamsat prep course on the market.
You can see loads of my customer feedback on the website or by simply looking for it on Google.
Is The Money Back Guarantee Real?
Yes of course. If for any reason you don't think my course will improve your Gamsat score then just let me know and I'll give you your money back in full.
The only time I've been known to refuse a refund is if it's blatantly fraudulent like on those rare occasions when someone tries to claim a refund within a minute of downloading all the materials because they think no-one is checking.
Are You A Real Doctor?
Yes I graduated from the University of London St.George's Medical School in 2009 and I now work as a doctor in Spain. My General Medical Council registration number is 7040383.
I'm also registered with the Spanish equivalent of the GMC, The Illustrious Official Doctor's College of Madrid (Ilustre Colegio Oficial de Medicos de Madrid) with registration number 282867863.
I'm a real doctor and a real person and I want you to get into med school and become a doctor too! I hope this article has answered all your questions about my course but if there's anything I haven't covered here feel free to email me and I'll get back to you personally. My contact details are on the website.
Best of luck with your studies!
Dr Peter Griffiths - creator of Griffiths GAMSAT Review