Where is GAMSAT held in Brisbane? | Brisbane test centre location
The Brisbane Gamsat is usually held in the Cliftons Centre which is a corporate training and conference centre located at Level 24, 288 Edward St, Brisbane QLD 4000
https://cliftons.com/locations/australia/brisbane/
However although ACER do tend to re-use the same venues for the test, the actual locations are not confirmed until you receive your official admissions ticket about two weeks before the test.
So to be on the safe side you should probably hold off until you get the official notification of the address before you make hotel reservations or other travel arrangements.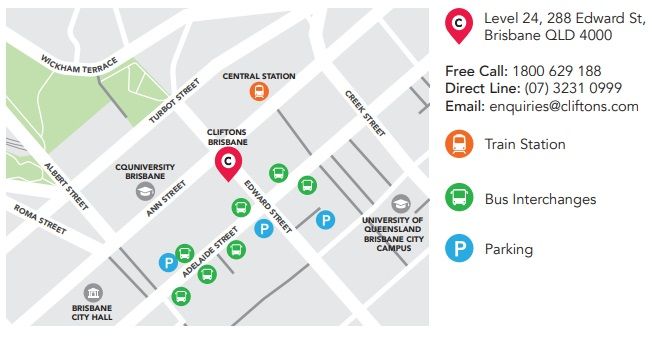 Travel
The closest train station to this test centre is Brisbane Central Station which is just a two minute walk away.
Cliftons does not have its own parking but there is a public car park which is 1 minute away on foot called the Queens Plaza Car Park located on 250 Edward Street (enter via the corner of Edward and Adelaide Streets).
For a 5+ hour stay which will be the minimum amount of time for the Gamsat test this will cost $65 although if you have a morning test session you might be able to take advantage of the "early bird rate" which is just $20 for entry between 6.30am and 9.30am.
https://www.queensplaza.com.au/car-park-information
Accommodation
The nearest accommodation is
• Adina Apartment Hotel, Ann Street (1 min walk)
• MacArthur Chambers Apartments, Edward St (3 min walk)
• Pullman King George Square (5 min walk)
Student Feedback About This Centre
I had my sitting in Brisbane at the Cliftons (288 Edward st).
What time were you told to arrive for registration?
7:00am
What time did the test actually start
Around 7:15am
Was there strict checking of water bottles, pencils etc?
No, however, we could not keep our bottles with us, they had to be at the front of the room.
Were there any issues in the test centre or any other feedback you'd like to give?
The third section will most likely begin later than expected. The testing rooms are on the upper levels of the building and so you have to wait 10 minutes in line for the elevator and also wait for everyone else to return to the testing room. Additionally, two people arrived after we began the test but we're still able to take the test.
Further Resources
For more help with GAMSAT check out Griffiths Gamsat Review Home Study System which takes you step by step through all three sections with advanced strategies for each.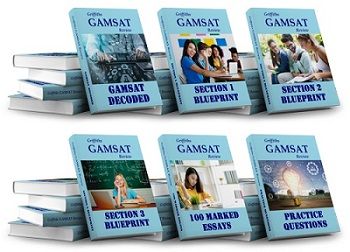 You Might Also Like...
The Best Gamsat Preparation Courses
How Long To Prepare For Gamsat?