GAMSAT For Optometry Applicants
A guide for optometry applicants who want to apply via the GAMSAT route. This article currently only applies to Australian applicants since there are no optometry courses in the UK or Ireland which require GAMSAT at the time of writing.
In Australia there are two routes into optometry after completing high school.
Bachelor of Optometry
The first route is to apply to a university course direct from high school to study a Bachelor of Optometry or Bachelor of Vision Science.
This route usually takes 3.5 to 5 years.
Competitive ATAR scores are required for this route.
The following table shows all the universities which currently offer undergraduate optometry courses and the typical ATAR scores they require for entry.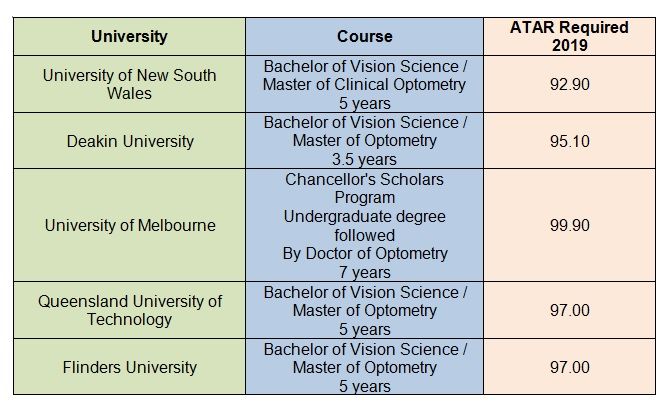 As you can see from the table there are currently only five approved optometry schools in Australia and they all require successful completion of an undergraduate degree in Vision Science or equivalent before moving on to a Master of Optometry.
At the time of writing none of these universities require applicants to sit the UCAT test as part of the admissions procedure. However this could change from year to year so please check for your current year of entry with the individual university websites.
Doctor of Optometry
This is a post-graduate route into optometry which requires applicants to sit GAMSAT.
There is only one university which offers this route at this time which is the University of Melbourne.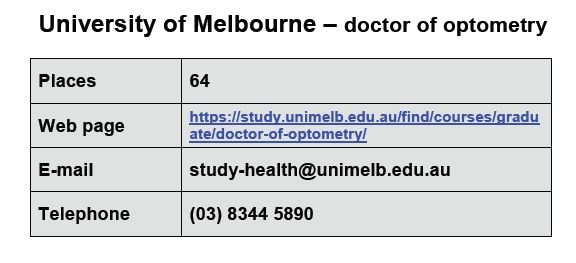 https://study.unimelb.edu.au/find/courses/graduate/doctor-of-optometry/
Applicants to this course can have studied any prior degree subject but must have also studied three subjects at level 2 or level 3 (or equivalent) in a relevant biological science discipline.
There are NO INTERVIEWS  for entry to this course.
Offers of places are made on the basis of an overall weighting comprised of two thirds based on prior academic performance and one third based on overall Gamsat score.
NOTE: the MCAT (Medical College Admissions Test) or the OAT (Optometry Admission Test) are also acceptable alternatives to the GAMSAT.
This course is fully accredited by the Optometry Council of Australia & New Zealand and is a 4 year full time program. So total time to qualification including undergraduate degree will be at least 7 years.
Further Resources
For more help with GAMSAT check out Griffiths Gamsat Review Home Study System which takes you step by step through all three sections with advanced strategies for each.