Where is GAMSAT held in Melbourne? | Melbourne test centre location
The Melbourne Gamsat is usually held in the Cliftons Centre which is a corporate training and conference centre located at Level 1, 440 Collins Street, Melbourne VIC 3000
https://cliftons.com/locations/australia/melbourne-collins/
However although ACER do tend to re-use the same venues for the test, the actual locations are not confirmed until you receive your official admissions ticket about two weeks before the test.
So to be on the safe side you should probably hold off until you get the official notification of the address before you make hotel reservations or other travel arrangements.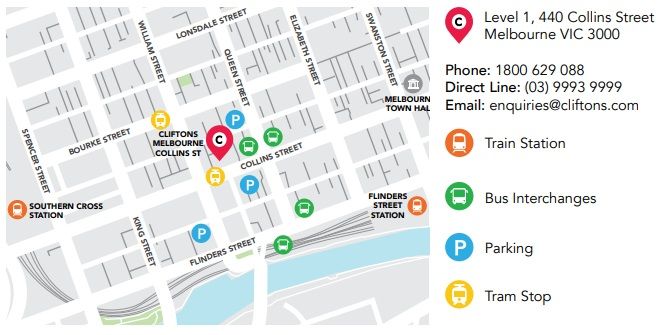 Travel
The closest train station to this test centre is Southern Cross which is approximately a 9 minute walk away. You also have Flinders Street Station which is about a 10 minute walk.
There are also two nearby tram stops both about a 2 minute walk from the centre which are the Cnr Collins St and Williams St stop and the Cnr William St and Bourke St stop.
Cliftons does not have its own parking but there is a public car park which is 2 minutes away on foot called the Wilson Car Park located on 425 Collins Street.
For a 4+ hour stay which will be the minimum amount of time for the Gamsat test this will cost $70 although if you have a morning test session you might be able to take advantage of the "early bird rate" which is just $25 for entry between 5am & 10am.
https://www.wilsonparking.com.au/park/3296_425-Collins-Street-Car-Park_425-Collins-Street-Melbourne
Accommodation
The nearest accommodation is
• Oaks on Market (2 min walk)
• Adina Apartment Hotel (6 min walk)
• Wyndham Hotel (5 min walk)
• Novotel (7 min walk)