Where is GAMSAT held in Liverpool? | Liverpool test centre location
The Liverpool  Gamsat is usually held in the Jurys Inn Hotel, Liverpool No. 31 Keel Wharf, Liverpool, L3 4FN
https://www.jurysinns.com/hotels/liverpool
However although ACER do tend to re-use the same venues for the test, the actual locations are not confirmed until you receive your official admissions ticket about two weeks before the test.
So to be on the safe side you should probably hold off until you get the official notification of the address before you make hotel reservations or other travel arrangements.

Travel
The nearest bus stops to the Jurys Inn are:
Gower Street
Wapping
Kings Parade
The nearest train stations are:
James Street - for the Wirral Line – (6 minutes walk)
Moorfields - for the Northern Line –(12 minutes walk)
Liverpool Central station – (9 minutes walk)
Lime Street Station – (12 minute walk)
If coming by car parking is available at the nearby Liverpool City Council Kings Dock Pay & Display.
http://kingsdock.com/explore/carparking.aspx
Tariffs are:
Up to 5 hours   - £7.00
Up to 9 hours   - £10.00
Accommodation
Since this test centre is located inside a hotel, if you need a place to stay while you take the test why not stay right here for maximum convenience.
If not the Holiday Inn Express Royal Albert Docks is a 3 minute walk away or the Staybridge Suites Hotel is just a 1 minute walk away.
Student Feedback About This Centre
I sat Gamsat at Jury's Inn in Liverpool. I'll answer your questions below:
1) We were told to arrive for registration at 7am
2) The test actually started at 7.55am
3) No there wasn't strict checking of drinks etc - I had reasonable adjustments to take a BGL monitor and food and they didn't check or notice
4) The people with extra time had their instructions read out while we were writing our essays, and vice versa while they were still on section 1
My Gamsat was an afternoon session at Jurys Inn Liverpool
1. Liverpool, Jurys Inn
2. Registration started at 2pm
3. The test started at 2.40pm
4. No checks at all on drinks, stationary or other items
5. We were all crammed into a small room, the room was stifling hot. There were no clocks on the wall. There were people constantly talking and shouting outside the hotel as the windows were open due to the heat.
Further Resources
For more help with GAMSAT check out Griffiths Gamsat Review Home Study System which takes you step by step through all three sections with advanced strategies for each.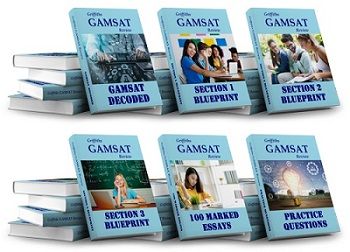 You Might Also Like...
How Long To Prepare For Gamsat?
How Many People Pass The Gamsat?
What Books To Read For Gamsat?